"Connection is the opposite of addiction." You will hear this often in your recovery journey and at Twin Lakes, we heartily agree with this. We want you to gather with fellow sober and clean people in recovery. Having someone to talk to that understands what you are going through, and what you are thinking, is very valuable.
That is why we have an alumni program that stresses remaining connected to the recovery community that you started at Twin Lakes. Our Alumni Coordinator is Parke Guthner who has been in recovery for two years. He is also an alumnus of Twin Lakes. He works here because he wants to help others and helping others helps him maintain his sobriety.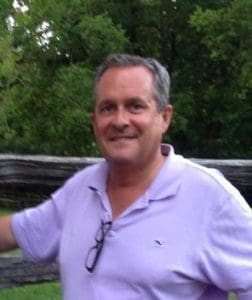 Every month we will have some kind of alumni outing. It might be a trip to the Georgia Aquarium, a local bowling alley, or a weekend picnic. We do this to encourage our clients to meet with other people in recovery. Go here to look at events: Events – Twin Lakes Recovery Center
We also have a weekly AA meeting with present clients and alumni joining (both in person and via Zoom.) This is on Friday nights, every Friday night. It is a chance for the alumni to show the present clients that there is a pot of gold at the end of the rainbow. Also, alumni can share aspects of their recovery journey. How they are staying clean and sober every day.
We also have an application for your telephone called CaredFor. Our version is strictly for Twin Lakes alumni and families. It is another way to stay connected with the community. That is where we will publicize events and celebrate milestones.
CaredFor App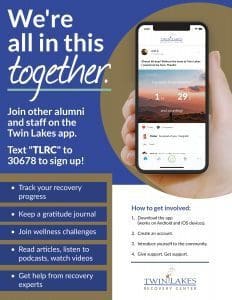 About the CaredFor App!
CaredFor is our secure, online platform that allows our alumni to connect, engage, and support one another, while also staying in touch with Twin Lakes Recovery Center. Inside CaredFor, alumni use a personalized dashboard that tracks sobriety time, provides articles and resource material, and provides support from recovery experts, including those at Twin Lakes Recovery Center.
Getting Started
Use of the CaredFor app is free for alumni and can be accessed on most wireless devices. To get started, text "TLRC" to "30678" or look for it in your app store.
Resources about ongoing care can be found on our blog. Blog – Twin Lakes Recovery Center
---
Gainesville Alumni Aftercare
Gainesville Alumni Aftercare Group is held every Tuesday night from 7:30-8:30pm at Twin Lakes Recovery Center in Gainesville.
---
Athens Alumni Aftercare
Athens Alumni Aftercare Group is held every Wednesday night from 6:00-7:00pm at Twin Lakes Recovery Center in Athens.
---
Monroe Alumni Aftercare
Monroe Alumni Aftercare Group is held every Wednesday at 6:30pm at Twin Lakes Recovery Center in Monroe.