Inpatient Residential Treatment
Twin Lakes Recovery Center's inpatient residential treatment services are provided at our beautiful 35-acre property in Monroe, located on the outskirts of Atlanta, Georgia. This peaceful setting provides the ideal atmosphere for healing. We believe a serene, home-like environment enhances our clients' treatment experience.
At Twin Lakes, every day is structured to provide intensive intervention and to educate, encourage and empower each resident's movement into a drug and alcohol-free life. Each day is full and designed to optimize the time we have with our clients and set them up for success when they leave Twin Lakes. Our inpatient residential treatment services allow those suffering from substance use and co-occurring disorders to focus on learning to live life without alcohol or other drugs and to develop the tools needed to navigate life without them.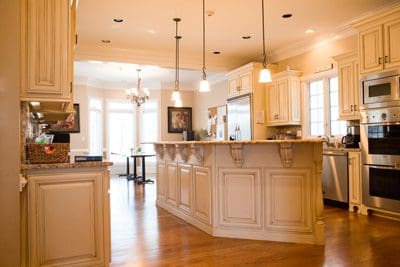 We know that choosing an inpatient residential treatment center is a difficult decision because it means stepping away from family, work and comfortable routines. Living on-site at Twin Lakes allows residents to focus on recovery, free from distractions. Residential treatment allows clients to unplug from their usual routines (which are most often unhealthy) and fully engage in the treatment experience with the support of 24/7 clinical staff. Guided by experienced addiction specialists, our clients are exposed to a variety of treatment modalities in individual, group and family therapy settings.
Most of our clients' stay is spent in the community areas of our beautiful, newly renovated 17,000-square foot home. Our semi-private sleeping quarters are well-appointed and comfortable. Meals are shared as a group in our dining areas. Our expansive property is often used for exercise and wellness activities.
Our twin lakes and quiet, wooded property provide a safe, scenic place for meditation, reflection and growth. Residents may also enjoy basketball, fishing, nature walks, badminton, volleyball, corn hole, horseshoes and other recreational activities while at Twin Lakes.
We know that recreation in recovery is important, and we want our clients to discover that they can have sober fun.
With a focus on mind, body and spirit, the Twin Lakes residential program offers compassionate, quality care in an atmosphere conducive for growth.
Twin Lakes Residential Treatment Components:
Cognitive Behavioral Therapy, Components of Dialectical Behavior Therapy, Experiential Therapy and 12-Step Work
Individual, group, and family programming
Masters-level prepared therapists
Psychiatric services, including medication management, if appropriate
Substance use and co-occurring disorders education
Daily process groups, mindfulness groups, and exercise & wellness activities
Relapse prevention groups, gender groups, life skills groups, nursing groups and discharge planning groups
Daily 12-step meetings (on-site and off)
2-day Family Program
Weekend family education/support
Access to Twin Lakes Continuing Care and alumni services