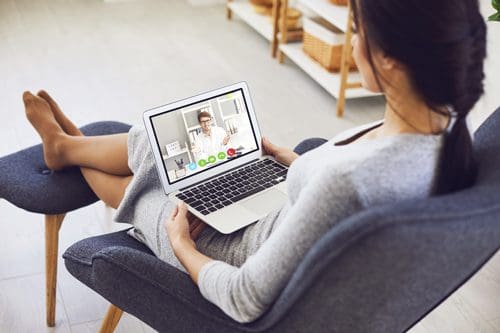 At press time, the United States and other major countries have mandated social distancing. The point of social distancing is to slow down potential contagions by avoiding close public contact—such as at church, at the gym, in retail outlets, in the movie theater, during playdates, and so on. This is why the state of emergency exists in Georgia, and why other areas of the United States have "shelter in place" mandates. At Twin Lakes, we have temporarily suspended family visitation and implemented other measures to help ensure the good health of our residents, staff, and visitors.
Staying at Home
However, staying home can present challenges for those in recovery. Many people in recovery rely on face-to-face support to maintain sobriety, and depend on their in-person meetings with therapists, members in group counseling, physicians, and other people in their networks.
Fortunately, there are many ways to find recovery support online. We've compiled below some online options to consider during this time of social distancing.
Developing Connections Online
Now more than ever, it's important to use healthy coping mechanisms, especially if you think additional stress or worry might compromise your sobriety. Use your continuum of care plan and other means to prevent relapse and maintain wellness.
It's also vital to keep in touch with your therapist and 12-Step sponsor. Your therapist may already use a form of telecounseling, but you might find video conferencing via one of the following platforms helpful for frequent contact with your sponsor, as well as others in your regular support groups.
To alleviate feelings of isolation and establish empathy, face-to-face conversations—even online—are better than texting and phone calls. So you might feel more connected with friends and family members with the services above, or try mobile apps such as:
Android's WhatsApp
Apple's FaceTime
Apps like SnapChat or Marco Polo
Live video chats available on Instagram or Facebook, which are free services you can use as long as people you follow are friends with each other
Finding Support through Groups Online
Maybe your regular meeting reduced available times or number of people because of health mandates. Or maybe your current therapist had to change hours to manage an increased workload, or you need additional support because of mental or emotional health issues. For these and other reasons, an online support network may be helpful to use until your routine is reestablished.
We provide this list not as an endorsement of a certain program or service, but simply to help you expand potential resources. Be sure to check with your therapist or 12-Step sponsor for other recommendations.
Let Us Help
Twin Lakes Recovery Center is ready to provide you with additional resources to make this troubling time easier. Check out our Facebook page for helpful discussions, review our blog posts for more ideas about staying well, or contact us right away if you or a loved one needs assistance with continuing care.
To learn more
about
our detox and treatment programs at Twin Lakes, drug abuse treatment in Georgia, please use the convenient
contact form
.