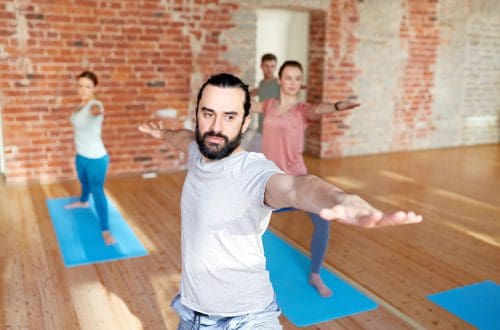 Yoga may seem like a mystical practice that only a few people follow. But in reality, nearly 37 million people practiced yoga in the United States in 2016.
Believe It or Not, Yoga Is for Everyone
If you've considered yoga but then thought, "I'm not flexible enough"—well, that's exactly why you should do yoga! There are numerous benefits to practice, regardless of your age, weight, flexibility, or fitness level.
Why Try Yoga?
The benefits of a consistent yoga practice are similar for many people and include:
Reduced stress
Improved sleep and/or less fatigue
Increased range of motion, so muscles and joints aren't so stiff
Greater ability to remain calm
Reduced inflammation
Enhanced mood through natural methods
Improved breath control
Individual benefits may present in relation to a particular discipline, or style, of yoga. For example, if you're suffering from low back pain, you may choose a type of yoga that provides mainly physical relief in the form of gentle stretching and easy breathing.
Conversely, if you're someone who believes in a greater connection to the universe, you may be more interested in a practice that includes not only the physical movements of yoga—also known as postures, poses, or asanas—but also deeper yogic philosophy and teachings.
What most people experience during yoga practice, even as beginners, is a sense of peace and ease that may not happen regularly in daily life. The scientific reason yoga can be this therapeutic is it naturally prompts the parasympathetic nervous system, or your relaxation response.
Yoga allows you to have a singular focus on breath and movement, which helps you stay present without dwelling in the past or worrying about the future. For people dealing with substance abuse, this present moment concentration creates a more positive state of body and mind. It also helps individuals in recovery deal with impulse control.
Don't Worry: Everyone Was a Beginner Once!
It's easy to initially be apprehensive walking into a yoga class. You might think, "I have no idea what's going on! Or how to move! Or what these words mean!"
When you start a class, whether in a treatment facility or at a community studio, make a point to introduce yourself to the teacher and let him or her know you're new to practice. This helps the teacher understand what your abilities may be, and instruct you accordingly.
In the beginning, you may need assistance from props, or will need to do a different posture variation in order to move safely. At first, moving from one pose to another may make you feel as graceful as an ice-skating elephant—but that will change with consistent effort.
Remember: in yoga, there isn't competition on the mat. Each body is unique, with various levels of flexibility, strength, and ability. Some people can't do certain poses because of a previous injury. Other individuals are incredibly flexible, but may not be as strong, or vice versa. Some people are thin; others not as thin. Some practitioners are older; some are younger.
None of these factors should affect your practice. Your relationship with yoga is based on your individual needs and abilities. Try a variety of yoga classes to increase your understanding and determine what you like most.
Top Tips for Yoga Beginners
Most beginners learn yoga by taking a class, so here are some helpful tips.
Take a class with a registered or certified yoga instructor.
Be honest with your teacher about special health concerns or issues, previous injuries, or if you'd prefer not to be touched.
Avoid big meals before class so movement doesn't conflict with digestion. If you need a light snack, have a piece of fruit, some nuts, or string cheese with raw vegetables about an hour before practice.
Wear workout clothing suitable for all types of movement. T-shirts are usually too baggy, and blue jeans—well, few people are flexible enough to move easily through denim!
Most of the time, yoga is done in bare feet. If you're self-conscious about your feet, just make sure they're clean with clipped nails.
For many classes, yoga equipment such as mats and props may be provided. However, most people invest in a personal yoga mat and towel.
Many beginners like being in the middle or the back of the room so they can glance at what other practitioners might do. This is fine as long as the teacher knows you're new to class, and you listen well to his or her verbal cues.
It's common for yoga instructors to adjust or assist a student in alignment or positioning. This attention helps the progress of your practice.
Unless you're told otherwise, always breathe in and out through your nose in yoga. This method may be a little different for you if you've worked with other forms of movement, such as running or Pilates.
If you need more guidance for how to best start yoga, ask your teacher for some post-class time to ask questions.
The Community of Yoga
One of the greatest benefits of yoga is the type of community it fosters. Each person practices for various reasons, but you're still an individual who's part of something larger, and many people discover yoga class is a nurturing environment. This often happens in sessions designed specifically for people in recovery.
It's also just fine if you'd rather work privately with a teacher, or learn some techniques in a class, then practice at home to develop a quiet, personal ritual.
Either way, make space for a regular practice, and see what positive changes occur.
To learn more
about
about Twin Lakes addiction treatment clinic Atlanta, please
contact
us today at (877) 958-0778.
Other Sources:
psychologytoday.com/blog/the-athletes-way/201403/yoga-has-potent-health-benefits
National Center for Complementary and Integrative Health.
Harvard Health Publications.
Forbes.
Yoga Journal.