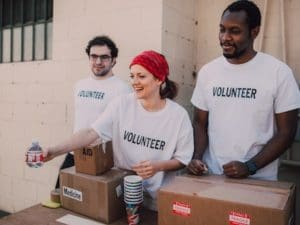 Giving back during addiction recovery can have a positive impact on all parts of your life. It's not only an opportunity to help others in need and show how much you care about your community, but it allows you to learn valuable life skills as well. When you focus on helping others, it takes the focus away from negative thoughts that could lead to relapse. Doing good for others also helps build self-esteem, giving you more confidence and a greater sense of purpose.
Benefits of Giving Back to Others
Giving back to others is beneficial in addiction recovery for many reasons. It can:
Help you gain a sense of purpose or meaning in your life
Motivate you to stay sober
Create stability
Improve your confidence and self esteem
Give you inner peace
Allow you to better manage anxiety or depression
Keep you connected to others so you are not lonely
Help you develop new skills
Provide a sense of gratitude for where you are in your own journey
In addition, giving back can give you perspective on what is important to you and how being sober has improved your quality of life.
Ways to Give Back in Addiction Recovery
There may be certain individuals who helped you while on your path to sobriety. Giving back to others is a great way to pay it forward, helping someone else who may be struggling. Giving back does not need to cost you money or cause you to feel stressed. Find ways to give back that fit your specific lifestyle and are rewarding to you personally.
Remember to keep your recovery a priority and to only give back in ways that work best for you. When looking for a volunteer opportunity, you may want to consider the following:
Your strengths and what skills you can put to use
What interests you the most and what you enjoy doing
What helped you the most when beginning your recovery
The types of opportunities available in your local community
Some ways to give back include:
Volunteering. You can find a variety of volunteer opportunities in your local community. Many animal shelters, homeless shelters, soup kitchens, nonprofit organizations, and churches have opportunities to help those in need. To find opportunities in your area, visit a site such as Volunteer Match.
Become a sponsor. This should only be done if you are in a good place in your recovery. A sponsor helps guide another person through their recovery and shows that living a healthy and rewarding life without drugs or alcohol is possible.
Help at 12-step meetings. Many support groups, such as Alcoholics Anonymous (AA), rely on help from their volunteers. You may find opportunities such as helping set up the meeting space, organizing literature, serving snacks, assisting at an event, or cleaning up after a meeting.
Give your time. You can visit a friend who may be struggling and spend time with them to let them know they are not alone. Just being there and listening to someone in need can show how much you care and allow you to share what you have learned in your recovery.
Mentor a young person. Organizations such as Big Brothers Big Sisters of America focus on changing children's lives. You can volunteer as a mentor to support a child who may be in need.
Make a donation. Not only can you donate money to a local charity, but you may also want to donate items. Cleaning out your closet? Consider donating unwanted clothes to a charity. Anything that can help others is worth giving.
Are You Looking for Help?
Are you or a loved one struggling with a substance use disorder? The dedicated and caring staff at Twin Lakes Recovery Center is here to help you get on the path to long-term recovery. Our Monroe, Georgia, treatment center offers a variety of programs for people of all ages, including inpatient residential treatment, medically supervised drug or alcohol detox services, and a family recovery program. To learn more about what we offer, please contact us today to discuss your options.
Looking for drug rehabs near Forest Park, Georgia? To learn more
about
our detox and treatment programs at Twin Lakes, please use the convenient
contact form
.