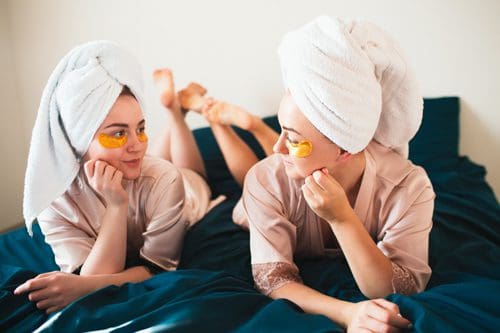 New Year's Eve is a time for celebrating with friends and family. Because those celebrations typically involve alcohol and parties, this time of year can be difficult if you are sober. That said, planning ahead and finding fun activities to partake in on New Year's Eve without the addition of alcohol does not need to be a challenge–there are many options to consider.
New Year's Eve Plans in Recovery
In addition to being a threat to sobriety, holidays like New Year's Eve can often trigger depression, stress, and loneliness. This doesn't have to be the case if you plan ahead. With some creativity, self-awareness, and social support, you can find many ways to ring in the new year without alcohol or drugs.
Night of pampering. Create a spa experience at home and have a relaxing night of pampering. You can pamper yourself or invite over a friend and have a spa night together. This type of night can be good for your mental health and help you de-stress. Some things to include are candles, comfortable robes, relaxing music, facial masks, bubble bath, and some scented lotion. To complete the night, order in your favorite food.
Game night. Have a game night at home and invite over some friends or family. You can supply a variety of games to play throughout the night, such as charades, board games, or trivia. You can even ask your guests to bring along their favorite game to include into the evening.
Potluck dinner party. Invite over your friends and ask them to bring their favorite dish. You can sample a variety of foods while enjoying the company of those closest to you. You can serve mocktails, sparkling water, and coffee–and be sure to include a fabulous dessert.
Volunteer. What better way to ring in the new year than by doing something kind for others. You can volunteer at a local shelter or community organization to not only help those in need, but also warm your heart.
Attend a support group meeting. Surround yourself with others who are sober by attending a support group meeting. Many 12-step groups offer sober activities or meetings tailored around the theme of New Year's.
Watch the ball drop. You can watch the ball drop at midnight on your TV and have your own New Year's Eve party. Serve some fun appetizers, have noisemakers, and make a toast with sparkling juice or sparkling water to ring in the new year.
Movie night. Play your favorite feel-good movies and have a movie night at your home. You can serve movie-type concessions such as soft drinks, popcorn, and candy.
Kids' party. Host a party for your kids and their friends whose parents want to celebrate a more traditional New Year's Eve. Decorate the house with balloons and streamers. Have crafts, movies, music, and games on hand to keep everyone entertained. Complete the night with some pizza and snacks.
Have a Plan in Place
If you decide to venture out on New Year's Eve and attend a party where there will be drinking, be sure to have a plan in place that will ensure you stay sober. Bring along a non-alcoholic drink in case you want to sip on something safe while at the party. You can invite along a friend who is also sober to have as support or plan on leaving if you begin to feel uncomfortable. Always have your phone with you so you can call your sponsor or another trusted friend if you are in need of support.
Another option is to decline an invitation to a New Year's Eve party. If you know in advance that you may feel tempted to drink and you do not want to be put in that position, simply tell the host that you cannot attend the party. Do not put yourself in a situation where you feel out of control.
Help Is Available 24/7
If you are struggling over the holiday season, you do not need to feel alone. The staff at Twin Lakes Recovery Center is here to help 24/7. We have the tools needed to help educate and support you on your sober journey. If you are looking for a rehabilitation program, we provide both inpatient and outpatient options to meet your needs. To find out more about what programs we have to offer, contact us online to set up a confidential consultation with one of our addiction specialists.
Are you or a loved one looking for drug rehabs near College Park Georgia? To learn more
about
our detox and treatment programs at Twin Lakes, please use the convenient
contact form
.