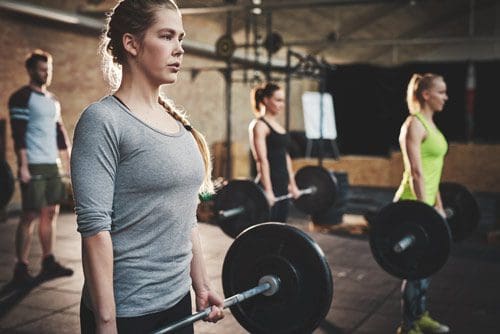 Diet and exercise play a role in keeping your body fit, but they can keep you mentally fit as you work to maintain sobriety. A healthy lifestyle can ward off cravings, keep you busy, and give you strength of body and mind.
Benefits of Exercise & Staying Fit
Exercise can give you a natural high due to the chemicals released while engaging in an activity. According to the Mayo Clinic, the feel-good endorphins released during exercise can increase your overall sense of well-being and help reduce feelings of depression and anxiety. The natural high resulting from exercise can make it easier for you to stay sober because it helps you fight off cravings for alcohol or drugs. As your brain adapts to less intense forms of stimulation, you may come to appreciate the consequence-free "high" that comes from exercise.
In addition to releasing endorphins, exercise also:
Promotes a healthier lifestyle. When you get healthy physically, you grow stronger mentally as well. The healthier you become, the more motivated you feel to stay healthy.
Keeps you busy. A daily exercise routine will keep you busy. Boredom is the enemy of sobriety, and staying sober can be difficult without a structured routine. Keeping busy can help prevent relapse–and when that busy-ness is benefiting your health, you'll be even more motivated to stay committed to your recovery.
Helps with stress. Exercise can help you destress when you feel overwhelmed. It can also help with your mood and any anxiety you may have. When you exercise, you can get perspective on the stresses of the day and release them in a healthy way.
Fitness Tips for Staying Fit
When in recovery, it is important to not overexert yourself or add too much stress to your day. Yes, you want to keep busy, but you also want to move through your day with a sense of calm and balance. With a fitness program, begin gradually. Keep the routine simple and easy so that you won't get discouraged and quit. As your body strengthens, you'll start to feel ready to add more components to the program.
Some other fitness tips to consider are:
Do something enjoyable. Pick an activity that you enjoy and look forward to doing. It can be something as simple as taking a walk around a local park or walking trail.
Try a new activity. If you are tired of doing the same activity, try something new to mix it up. There are endless possibilities, such as yoga, martial arts, tennis, or basketball.
Get a buddy. Working out with a friend has many benefits. If your friend is also in recovery, you can use this time to share your struggles and accomplishments in sobriety. You can motivate each other on the days when your energy or mood lags.
Stay consistent. Regular exercise can benefit anyone but especially those in recovery. Try to incorporate 20-30 minutes of exercise into your day for at least 5 days a week. You can do more depending on your personal health and fitness goals. If you are consistent with your fitness routine, it will be easier to stick with it for the long term.
Don't Overlook Your Diet
In addition to exercise, what you eat can play a role in your overall health. If you want to stay fit while staying sober, incorporate a healthy eating plan into your lifestyle. We understand that it can be overwhelming to cut out all the foods you enjoy while also cutting out alcohol or drugs. But you can still make small, daily choices that improve your diet. Once you realize how good you feel with your new lifestyle, you will want to continue eating healthy.
U.S. News & World Report mentions that while there is not a specific diet for those who are newly sober, an optimal diet plan would focus on protein from fish, lean meat, and poultry. In addition, it would feature fresh fruits and vegetables, legumes, and whole grains. Refraining from drugs and alcohol can be a challenge, but maintaining healthy eating habits can support sobriety, especially early in the recovery process.
Your Health Is Important in Recovery
Eating healthy and staying fit are important tools in recovery. Living a healthy lifestyle can help you stay focused on staying sober. Once you have a routine in place, it can give you structure so you have something to look forward to each day.
If you are struggling with your recovery, reach out for support. Attending meetings with others who share the same struggles can be a great reminder that you are not alone.
Support Is Available
If you are looking for additional support, Twin Lakes Recovery Center can help. We offer a wide variety of programs that can suit anyone's needs. Our campus has walking trails and beautiful wooded areas that are ideal for exercise and also for reflection. We also offer a range of recreational activities such as basketball, badminton, volleyball, corn hole, and horseshoes.
To find out more about Twin Lakes Recovery Center's programs, contact one of our addiction specialists to set up a consultation. We are available 24/7.
Are you or a loved one looking for a Georgia alcohol rehab? To learn more
about
our detox and treatment programs at Twin Lakes, please use the convenient
contact form
.