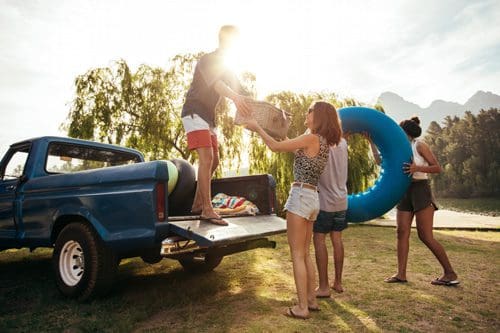 Staying sober in the summer can sometimes prove to be a challenge, as summer is filled with invitations to parties and events that often include substances. But preparation, resources, and a healthy attitude can go a long way in helping you have fun while also staying sober.
Ways to Enjoy Summer While Staying Sober
Turns out there are endless options for fun, stimulating, and sober summer activities. Consider the following:
Hang out with supportive friends and family.
Surround yourself with friends and family who support your sober lifestyle and encourage your recovery. Pick an evening and just spend time together talking or listening to your favorite music. Sitting around a bonfire is also relaxing and a great way to connect with those closest to you.
Try out non-alcoholic drinks.
Summer often means partaking in refreshing drinks, so check out new recipes for non-alcoholic drinks you can make at home. Invite over your friends and try out some summer-themed mocktails while enjoying each other's company.
Enjoy the outdoors.
Being outdoors is good for both mind and body. Keeping active has both physical and mental health benefits and can help keep you focused on your sobriety. Schedule regular exercise for yourself, and exercise with others when possible. Leisurely evening walks can be a soothing way to digest dinner and calm any cravings that might arise.
Find a new hobby or sport.
Summer is the perfect time to try a new hobby or sport. Summer activities such as tennis, golf, or volleyball are fun to do with friends and do not require drinking. Gardening or yard work also are summer hobbies to consider that give you something to focus on and take care of while making improvements to your surroundings.
Go for a swim.
Whether you swim at a beach or pool, swimming can be a great way to exercise while having fun. People of all ages can enjoy a day at the beach or pool while soaking up the sun.
Read a book.
Escape and relax by reading a good book. Need some extra recovery motivation? Check out books related to recovery.
Enjoy a sweet treat.
Summer and ice cream are the perfect pairing. After all, who doesn't love a banana split or an ice cream cone on a hot day? You can delight in a sweet treat to stay cool this summer. Going out for ice cream is something that the entire family can do together or can make for the perfect summer date.
Pack a picnic.
A summer picnic is a great way to gather friends and family together while enjoying time outdoors. You can pack a picnic and head to a local Atlanta park and ask everyone attending to bring their favorite food or snack. Be sure to bring blankets to sit on, some beach chairs, and your favorite music.
Play with your pets.
If you have pets, summer is a great time to get them outside for a day of play. Take a walk, throw a ball or frisbee, or take your furry friend on a trip. If you do not have a pet of your own, contact your local animal shelter and volunteer to make a difference in the lives of pets that don't have homes.
Focus on yourself.
What better time than summer to focus on yourself. Schedule some days off work just for you. On these days, arrange for childcare if needed and make yourself a priority. Reflect on how far you have come in your recovery.
Staying Sober: Ways to Avoid Alcohol in Summer
Alcohol may be in many of the places you visit in the summer, but that doesn't mean you need to be around it. If the temptation to drink becomes overwhelming, remove yourself from the situation. Ask a friend to leave a gathering with you if it is too hard to do on your own, or consider bringing a sober friend along for extra support.
We Are Here to Help
If you or a loved one is struggling to stay sober this summer, we can help. At Twin Lakes Recovery Center, we offer treatment options for substance abuse, alcohol abuse, and co-occurring disorders. Our experienced staff of medical professionals is available to help you or your loved one on their path to recovery.
Considering a residential
inpatient
alcohol rehab in St. Louis? To learn more
about
our detox and treatment programs at Twin Lakes, please use the convenient
contact form
.