Many people in recovery are worried about the stigma of being sober.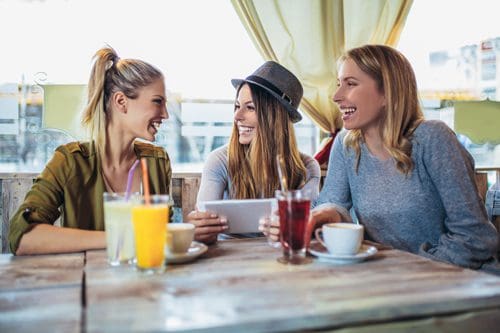 They fear they won't be able to socialize without being the odd person out, or they dread having to field a lot of questions at work and leisure functions if they choose not to drink. In some social circumstances, there might also be key triggers which pose a threat to sobriety.
However, a new trend might make alcohol-free socializing more mainstream. The sober curious movement focuses on health and wellness and encourages people to examine their relationship with alcohol. New dry bars and craft "mocktails" help encourage abstinence without sacrificing diverse interaction, and they make it universally acceptable to have a gathering without imbibing.
Abstaining In Today's World
In 2005, sociologist Jamie L. Mullaney released Everyone Is NOT Doing It: Abstinence and Personal Identity. She explored what happens when people abstain from a variety of habits and substances—including cigarette smoking, sex, sugar, and technology. She categorized primary abstainers and found a common thread: abstaining "gives people a more secure sense of self by offering a more affordable and manageable identity in a world of ever-expanding options."
This aspect of pride in identity wasn't always synonymous with being a recovering alcoholic or drug abuser. Guilt and shame are prevalent emotions for people transitioning from substance abuse—often because in the past, they couldn't be open about their struggles or successes.
Mullaney, a professor at Goucher College in Baltimore, Maryland, says that now it's much easier for people who abstain from behaviors or substances to manage the expectations of others when they talk about doing something for their health.
"The fact that others back off with their questioning when abstinence is framed in terms of health suggests to me that it is a legitimate contemporary cultural frame," Mullaney told the Christian Science Monitor when interviewed about the sober curious movement. "We're increasingly tuned in to the ways in which excess—whether it's food or substances or even technology—can impact health." Still, she cautions, abstinence is "a privilege for those who can actually choose."
Proponents of the Sober Curious Movement
Alcohol Change UK
The non-profit Alcohol Change UK is the originator of the "Dry January" effort. It's a "booze-free challenge that helps millions reset their relationship with alcohol every year." What began in 2013 with 100,000 participants reached a peak in 2018 of over four million people actively making the choice to not drink for an entire month. Stories from participants range from "When Alcohol Is Your Only Hobby" and "I'm Sober, Not Boring" to "The Challenges Men Face Going Alcohol-Free" and "My Unexpected Joys of Being Sober."
According to the organization, research conducted by the World Health Organization indicates "more than 70 percent of people who do Dry January are still drinking less riskily six months later."
The Dry January awareness campaign is active in the U.S., too. In 2019, one in five Americans participated in the program. Similar sobriety initiatives include "Sober September" and Australia's "Dry July" to raise money for cancer research.
Mindful Drinking Movement
Another UK-based program is the Mindful Drinking Movement and its central hub, Club Soda, with a mission to have "a world where nobody has to feel out of place if they're not drinking." It addresses the challenging stigma of not drinking in social gatherings and helps people find others who prefer—for whatever reason—not to drink.
Laura Willoughby, a co-founder, said: "there are plenty of people who don't need to go into recovery but, nevertheless, drink too much and really should do something about it, for the sake of their health, wealth, and happiness."
Ruby Warrington
In her book Sober Curious: The Blissful Sleep, Greater Focus, Limitless Presence, and Deep Connection Awaiting Us All on the Other Side of Alcohol, Warrington "takes down the myths that keep so many of us drinking." She's the Pied Piper of the new sobriety movement.
She also created Club SÖDA NYC with co-founder Biet Simkin to further the concept of sobriety. SÖDA is an acronym for Sober or Debating Abstinence, and various events "investigate what happens when we re-frame our relationship with alcohol. To remove some of the stigma that exists around sobriety and alcohol abuse."
Other people are joining the effort. For example, Atlanta native Steve Palmer, who owns restaurants in Georgia, North Carolina, South Carolina, and Tennessee, prominently offers "zero-proof" menu options. One catalyst for this business decision was his successful recovery from alcohol and drug addiction.
Why Sober Curious as a Trend Poses a Challenge
People in recovery recognize the resilience required to not only to stop drinking and seek treatment but also remain sober and avoid relapse. They might participate in helping people socialize without substances, but they don't consider it a trend.
The Christian Science Monitor article about the sober curious movement talked with Chris Marshall. Sober for more than 10 years, he's the proprietor of Sans Bar, "a safe sober space to make authentic connections with people just like you." Prior to opening the bar, he worked as a substance abuse counselor. He noticed that people often experienced relapses because they'd "fall back to the same social circle."
For him, "there's nothing trendy about choosing to be sober, because for me and millions of other people, this is life and death."
Referring to alcoholism as a disease isn't something many proponents post on social media when talking about sober curiosity. But, in an article in Refinery29, neuropsychologist Sanam Hafeez cautions that for people in recovery, "staying sober is not a game or a lark. It's literally their life at stake."
What she hopes is that the new sobriety movement removes barriers, making it more "socially acceptable not to drink, and potentially start a conversation about the realities of the disease."
Whole Body Health at Twin Lakes
At Twin Lakes Recovery Center in Georgia, we don't want you simply to be sober curious: we want you free of dependence on alcohol and destructive behaviors. Our philosophy is that while addiction is incurable, it's treatable. Healthy, joyful, long-term recovery is possible. To learn more about our detox and treatment programs at Twin Lakes, please use the convenient contact form.
To learn more
about
our detox and programs at Twin Lakes, alcoholism treatment centers around Atlanta, please use the convenient
contact form
.