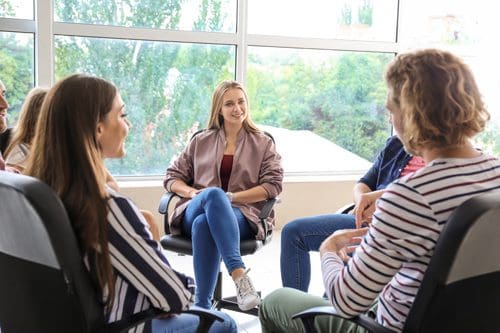 If you attend rehab, you'll likely be in group therapy.
This isn't the only counseling option, but it's a common practice at most treatment centers. For example, Twin Lakes uses the group format for therapy, mindfulness and process exercises, 12-Step meetings, gender-specific issues, relapse prevention, and life skills. Depending on the nature of treatment, someone would participate in these group activates while also receiving personalized private counseling.
If you're not used to sharing your thoughts and feelings with others, group therapy might require a change of perspective. However, a gathering of other individuals who desire to heal and move forward with their lives is often quite successful for substance abuse treatment, as are smaller sub-groups designed to treat more distinct concerns, such as depression, trauma, and other problems.
Benefits of Group Therapy
Why is an interpersonal process group an effective experience? Researchers state it's often because of an innate human need for togetherness and connection. The U.S. National Library of Medicine shares data that outlines numerous advantages for participating in group therapy. They include, but aren't limited to:
Reducing the "I'm the only one" dynamic that accompanies substance abuse.
In a formalized group setting, the intent is for everyone to share thoughts and feelings. The more you hear about other people's experiences, the easier it is to not feel isolated or ashamed about your experiences and behaviors. These exchanges help you gain a broader perspective.
Receiving both peer support and accountability.
You have a built-in support system—maybe not from every person in the group, but from enough people to reinforce that you're not fighting battles alone. Each member can share tips for maintaining wellness and draw strength from others. Conversely, these people will most likely be the trusted individuals who call you out if you're slipping up or not following recommendations for coping with recovery.
Witnessing how other people navigate recovery.
Seeing many different people learn how to triumph over substance abuse inspires others to believe they'll be successful as well. Researchers also point out that the close-knit environment of interpersonal groups creates a deeper investment in every member's success.
Sharing feedback about abilities, viewpoints, and values.
Whenever we're in an environment where we feel respected, heard, and supported, it changes how we act and interact in daily life. Group therapy members learn to help each other move past false perceptions and the negative or distorted views implanted by toxic people; they help each other learn new ways to reinforce positive behaviors in themselves and others.
Adapting to new or more progressive social skills.
While sharing your darkest secrets in front of people might not be something you enjoy, group also helps you understand the importance of listening, learn how to provide a safe space for other people, and establish healthy boundaries for yourself. There's a lot of coaching and practicing in a group setting that will ideally feel like interacting with a chosen family.
Understanding the importance of structure, discipline, and ritual.
One reason why 12-Step and similar groups are successful is because of the unyielding framework of each visit: the time, location, even where the coffee station is placed reinforces how essential certain routines and rituals are in daily life. When many things are out of your control, you have a touchstone of stability through certain disciplines. Instead of looking at group meetings as some type of restriction, people tend to rely on them to offer solace, community, and relief.
Aligning with people who understand your challenges.
We're all unique, but we build strength in numbers. For example, gender-based substance abuse groups may help women traumatized by domestic abuse or men unable to find reliable outlets of support. People in the LGBTQ community can find necessary support and guidance among peers. Individuals who struggle with addiction and the risk of suicide can commune with others trying to move forward. When we feel heard and understood, we become well.
How to Make Group Therapy Work for You
Consider these helpful tips when participating in group therapy, a support meeting, or another group-centric environment.
Maintain respect and open-mindedness in each session. As mentioned above, a group should provide a safe haven for all attendees. There may be times when you feel triggered, defensive, or simply uncomfortable, but remember that secure space is there for you as well.
Confidentiality is expected, but use common sense when sharing. It's important to be open and equal in a group conversation, but take care to keep certain facts private, such as any pending legal issue, financial information, where you live, and details involving others.
It's okay to observe and listen, but be prepared to engage. Most groups have a balance of voluntary and involuntary participation. This means you might only speak up when you feel like it, and that's fine—but in other situations, the group facilitator will call on you directly to share your views. Refusing to respond means you'll have a less satisfactory experience.
Peer-led groups are fine, but seek out groups with trained personnel for deeper issues. When you experience group therapy in a treatment center, the meeting is most likely facilitated by a licensed therapist of some degree. Depending on where you are in your recovery journey, you may need the structure and education in a group led by a professional before participating in other settings.
Twin Lakes Believes in the Power of Togetherness
One of the ways Twin Lakes extends support for your wellbeing is through our continuing care groups. Featured at our outpatient services locations in Gainesville and Athens, as well as at our residential treatment center in Monroe, these weekly alumni meetings provide therapeutic connection and guidance. It's a fellowship we feel helps you maintain a foundation of long-lasting health.
To learn more
about
our detox and treatment programs at Twin Lakes, addiction recovery in Atlanta, please use the convenient
contact form
.